'If Ferrari would build a bike, it would look like the Suzuki RF.'
These words wrote someone in one of the first press articles as Suzuki introduced the RF in 1993.
So, these pages are a tribute to one of the best looking and maybe most underrated bikes in the world.


Chronology:

The owners page will be updated continuesly -> momentary over 450 members!

03-24-2008 RF related links updated
10-15-2007 Hosting moved to itactiq
12-01-2005 Uploaded RF900R microfiche -> Books
08-09-2004 Updated Intro
05-26-2003 Uploaded two mp3 files with RF600 and RF900 sounds -> RF600R/RF900R -> Sound
01-01-2003 The site www.suzuki-rf.de moved to nc-projects
08-21-2002 The discussion board will be discontinued on August 26, 2002
07-15-2002 After a long long time again over 50 owners added.
10-20-2001 Press/on the net and picture gallery -> others updated: Road test and picture od RF900R Manta Ray
09-23-2001 Nearly 1 year after the last update over 100 owners added!
09-16-2001 Suzuki links updated
10-08-2000 Links and tuning pages modificated, press updated, maintenance section started
10-06-2000 Links updated, tuning pages modificated
10-03-2000 Arrangement of all pictures changed. Most moved to -> gallery; crash page updated
10-01-2000 Mailing list started, powered by eGroups
08-31-2000 PS 4/96 press article scaned
08-27-2000 Motorrad 3/95 press article scaned and added, all .htm changed to .html
08-10-2000 Now over 300 members in the RF owners list!
07-22-2000 Web forms on the owners page again available
07-09-2000 RF site is now a member of the Suzuki Web Ring! See more at the bottom of this page.
07-03-2000 Worldrecord site updated: picuters and facts
07-02-2000 Links link centralized, Pict.gallery now with thumbnails, Updated: RF400R, RF900R, RF and other links; disclaimer added
06-29-2000 Updated: worldrecord
04-11-2000 Links page updated
04-10-2000 Updated: Press, worldrecord, Crash, Suzuki and RF related links; New: Picture gallery
04-09-2000 2nd hand and worldrecord site
04-08-2000 New font overall, only one instead of two old guestbooks
04-02-2000 New link site added
04-02-2000 Some new RF400RV pictures and some technical data added. Starting the RF site chronology list.
04-02-2000 German discussion board and owners form temporarily disabled due to missing cgi hosting. Section RF600R, RF900R updated.
03-28-2000 Moving the site www.suzuki-rf.de to the superb ISP .
02-11-2000 RF site available under www.suzuki-rf.net and www.suzuki-rf.com hosted at Cybernet.
08-05-2000 Domain www.suzuki-rf.net and www.suzuki-rf.com reserved.
12-20-1998 RF site available under www.suzuki-rf.de hosted at Strato.
12-06-1998 Domain suzuki-rf.de reserved.
05-01-1997 Starting a RF related site hosted at Geocities.
---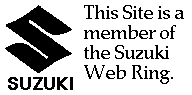 Next Site | Skip Next Site | Random Site | Previous Site | Skip Previous Site
For information on the Suzuki web ring, click here.

---
Recommended Links:

Adria Consulting
FMS - Flisar Multimediasysteme
FMS-IT
Eddi's Homepage
Chauffeurservice Cremer
Waschsalon München
Wäscheheimservice München
GO-KART-Reifen.de
ITACTIQ
next generation consulting
www.cursuri.org
www.sunflower-sonnenstudio.com
www.sonnenstudio-neubiberg.de
www.neubiberg-online.de
www.unterbiberg-online.de
www.pinhak-optik.de
www.optik-neubiberg.de
www.optiker-neubiberg.de
www.pinhakoptik.de
www.optikberater.de
www.speed-transports.com
www.speed-transports.de
www.lederwaren-schweigert.de
www.lederwaren-muenchen.de
neubiberg-online.de
unterbiberg-online.de
www.softsupplier.com
SB-Waschcenter München-Haidhausen